Casa de cambio
A Casa de cambio is a money exchange office.
It is also called a CADECA.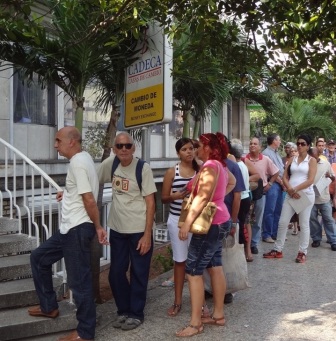 Cadeca (Casa de cambio) line at 23rd and J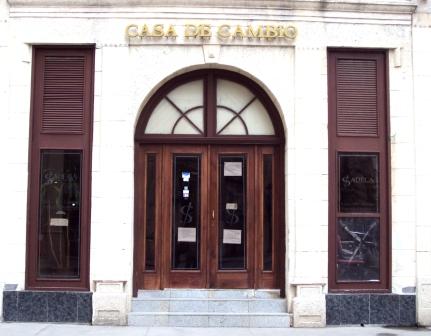 Cadeca located in Old Havana

Cadeca locations
At the Corner of Oficios and Lamparilla, in Old Havana

On the Corner of Calle 19 and A in Vedado

Hours of operation:
Mon - Sat 10am to 4pm
Sunday closed
---
On Calle 23 near J in Vedado

At #257 Calle Obispo in Old Havana
Hours of operation:
Mon - Sat 10am to 8pm
Sunday 10am - 4pm


The above Cadecas will change your foreign currency into CUCs.
They can also change your CUCs into National Pesos. Just ask. You will receive around 25 National pesos for one CUC.
Never buy your currency from a person who approaches you on the street. You could end up with the wrong pesos.
---
All major hotels have an in-house Cadeca that changes foreign currency into CUCs.

There are money-changing facilities in the following hotels:
Habana Libre at the corner of Calles L and 23 in Vedado

Hotel Nacional at the corner of Calles O and 21 in Vedado

Hotel Parque Central on Neptuno in Central Havana across from Parque Central

Hotel Sevilla at #55 Trocadero between Paseo de Marti and Agramonte, Central Havana


Custom Search
If you're looking for a bank NEXT>

Return from Casa de Cambio to Home Page