Leaving the Havana airport
Outbound travelers
When you leave the Havana airport you no longer need to worry about the Airport Tax as it is included in the cost of your trip.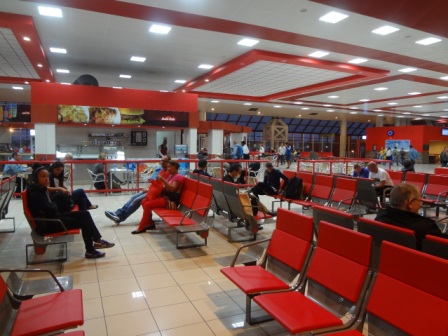 ---
Keep enough currency to buy your duty-free purchases as well as a snack. There is a kiosk in the departure area that will change your Cuban Pesos back into your own currency.
If you need a drink to calm your nerves, a mojito will set you back $5, a coffee $3. There is little substantial food aside from ham and cheese sandwiches or a burger at the upstairs cafe.
There is a small shop that sells delicious Cuban chocolates. If you're lucky enough to find a clerk in attendance, give them a try.
The airport has an excellent selection of Cuban cigars, coffee and rum, as well as other liquors.
If you have bought art or antiques, you must have a permit from the National Registry of Cultural Objects. A legitimate vendor will supply this permit and he can stamp your receipt so there are no problems.