Hotels in Havana Cuba
Some of the cheaper hotels in Havana Cuba can be comfortable while other higher-priced "palaces" can be a disappointment. It's not always the cost that defines what you will get. This is only one of the factors.

What to expect
In general, the main complaints about hotels in Havana are:
rude or disinterested staff

dirty and/or broken things including the furniture, linen, fixtures and plumbing 

 poor quality food

 
If you can accept that the hotels in Havana, like the physical infrastructure of Havana itself, deteriorate in the humidity, heat and hurricanes—with little chance of repairs—then you can understand the conditions.
The surly attitude of staff is something else. At worst you can be robbed... pilfering of luggage or padding the bill... but for the most part you will just be ignored. Expect the worst and be pleasantly surprised when someone smiles or helps you.
The desk staff can seem annoyed when you "bother" them; the maids, who know you will tip them or leave clothing, are in a friendlier mood.
This lack of service is found all over the city, in every enterprise, due to low wages and poor working conditions. Local people suffer just as you may suffer. So it's not just an abuse of foreigners; it's general abuse of the population. If someone is really friendly to you in the streets, that's a tip-off that they are about to try to part you from some of your cash.
My ratings for hotels in Havana Cuba 
You can divide the Havana hotel properties into five main clusters:
the worst

the cheap but acceptable

the okay to good

 the very good and 

 the top five

 
It's not always the cost that determines the quality. The worst are mostly found in the bottom price brackets and the top five are among the most expensive. 
However, it's the ones in-between where you need to take care. Always check out the opinions of past guests at the www.tripadvisor.com  site before committing to a stay. Check the latest opinions because conditions at Cuban hotels can change in a heartbeat.
---
The Good the Bad and the Acceptable of hotels in Havana Cuba
[B] means Beach location, a 25 minute drive from Havana

THE WORST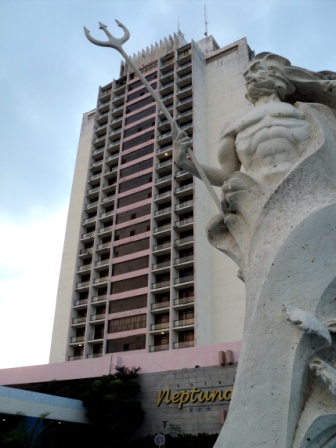 Villa Megano  [B]
Villa Los Pinos  [B]
Islazul Las Terrazas Aparthotel  [B]
Atlantico Aparthotel  [B]
Hotel Lincoln
Hotel Lido
Hotel Victoria
Hotel Plaza
Hotel Tulipan
Hotel Saint John's
Hotel Neptuno-Triton
Hotel Deauville
Hotel el Bosque
Islazul Caribbean
Club Acuario
If you are wondering why anyone would book into hotels in Havana Cuba with on-line descriptions such as "filthy, bug-ridden, rude, prostitution, mold, etc." there are a few upsides that keep the guests coming year after year.
Many of the above hotels in Havana are beach-side at Santa Maria del Mar, a beautiful location. Others are found in central locations of Havana. These hotels are cheap and feature attractive young women on or near the premises. This is a big draw for many visitors.
If you want to take a Cuban into your hotel room you must pay an additional daily fee.
---
Cheap But Acceptable

Gran Caribe Club Atlantico  [B]
Bravo Club Hotel Arenal  [B]
MarAzul Hotel  [B]
Villa Bacuranao  [B]
Islazul Colina
Kohly Hotel
Hotel Habana Paseo
Montehabana
Hotel Vedado

---
Okay to Good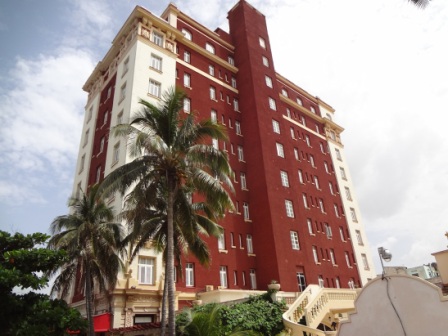 Armadores de Santander
Park View Hotel
El Meson de la Flota
Hotel Florida
Hotel ROC Presidente
Memories Miramar
Hotel Sevilla
Hotel Raquel
Blau Arenal Habana Beach
Hotel Quinte Avenida Habana
Habana Panorama
Habana Riviera
Hotel Copacabana
Hotel Ambos Mundos
Cubanacan Boutique Chateau Miramar

---
The Very Good
Hotel Telegrafo
Hotel Palacio del Marques

Hotel Inglaterra
Hotel Tryp Habana Libre

---
The Top ten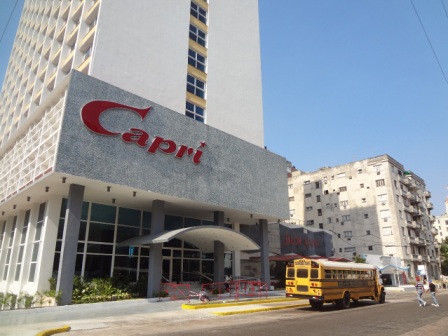 Hotel Iberostar Parque Central
Melia Cohiba
Melia Habana
NH Capri Hotel
Hotel Terral
Hotel Nacional de Cuba
Iberostar Hotel Packard

Hotel Paseo del Prado
Hotel Gran Aston La Habana
Gran Hotel Manzana Kempinski La Habana
---
New 5 Star Hotels in Havana 
Recently 5-Star hotels have opened in Old Havana. They are located along the Prado--near the Capitolio--so are convenient to all the sights of the old city, the museums, galleries and theatres.
If you love the glitz and glamour of a modern European hotel then these hotels could satisfy your taste.  They are at the high end cost-wise but don't expect 5-Star service or food. This is Havana, Cuba.
Gran Hotel Manzana Kempinski is located on San Rafael at Agramonte.

Hotel Packard is at 51 Paseo de Prado.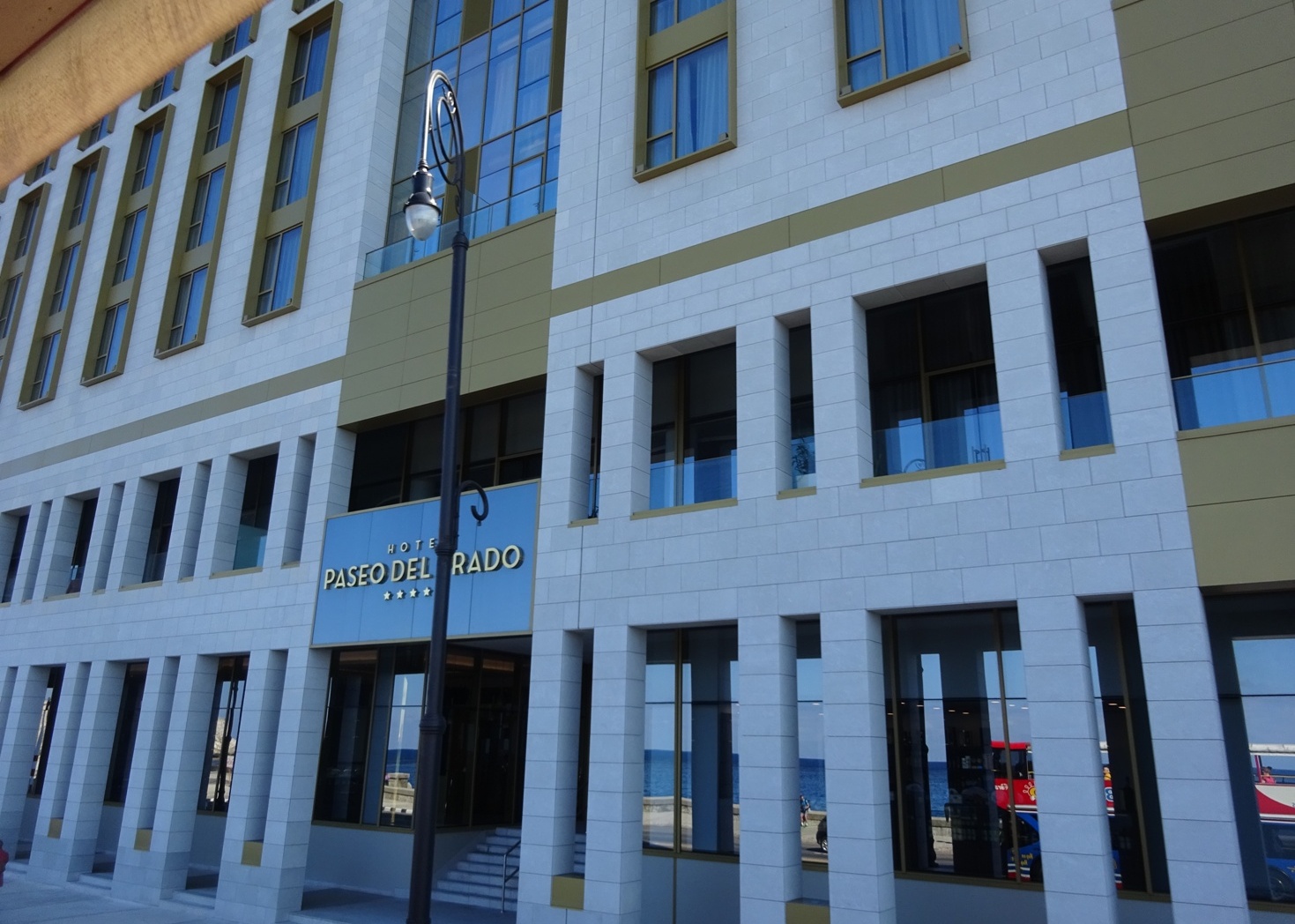 Hotel Paseo del Prado is on Prado at San Lazaro and Malecon.

There is an alternative for those who enjoy beautiful surroundings and welcoming hosts at half the cost of the 5-Star hotels. These are the boutique hotels which are opening up and here are some of the best;
Paseo 206 Boutique Hotel in Vedado

Boutique Vedado 5TAY8 in Vedado
La Reserva Vedado at 21 and 23 in Vedado
Revolution Boutique Hotel in Old Havana
 Vedado is a short taxi ride from Old Havana and is one of the most interesting areas of Havana. The architecture, theatres, hotels, clubs and restaurants are a fascinating step back in time.