If you're going to Cuba
Welcome to Havana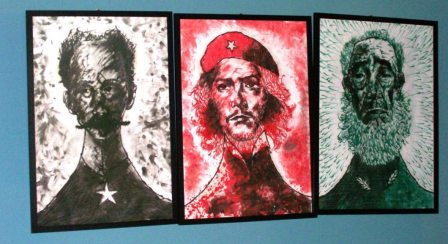 Essential items for you
If you're going to Cuba... it will be hard to find many things that you take for granted in your home town. For example grocery and other CUC shops have limited items and drug stores barely exist. If you're on a prescription drug take enough for your visit. You won't be able to replace it.
Many of the following items cannot be found in Havana or are sub-par quality and others are only sporadically seen. So here is a list of essentials to bring with you to avoid frustration and discomfort:
Beach towel and hat and sandals

Facecloths (not sold in Cuba)


Umbrella


Travel fork, knife and spoon


Baggies of all sizes (not sold in Cuba)


Pens and small writing pads


Scissors or Swiss Army knife


Bandaids, Advil and Tylenol


Flashlights, several (the streets are pitch black at night)


Instant coffee and creamer packets (for caffeine emergencies)


---

Cheap watch (it's hard to find a clock in any place)


Sink plug that covers many sizes


Thermos for water on long journeys


Nail polish remover (impossible to find as locals snap it up quickly)


Sanitary items (take Kleenex packets too – many public toilets are lacking)


Hair brush and comb, hairdryer (110 volts except for major hotels where they often have 220 volts)


Sun tan lotions (poor quality if available) and burn cream


Shaving cream and razors (high priced if available)


Toothbrushes and toothpaste


Camera and lots of batteries (if you can find them they are poor quality)


Condoms (if you're fussy about quality)


Antiseptic cream (a big must – Polysporin can be a lifesaver)

What about clothing?
The really hot months are from April to November. December to March are cooler by a few degrees and at night you may need a jacket or windbreaker. But overall whenever you are in Havana here is a list of essential clothing--cotton if possible due to the high humidity:
A good supply of underwear; cotton bras are also best (only polyester cheapies are sold in Cuba)

Pyjamas (pjs are not sold in Cuba--you would need to improvise)

Shorts

T-shirts and cotton shirts

Jeans and/or hardwearing travel pants

Swimsuits and beach coverup (the sun can be strong)

Good walking shoes and socks

Sandals

Dressier clothes for going out
Leave some space in your suitcase
Many people who make regular trips to Cuba arrive "fully loaded" and go home with just the shirts on their backs.
Most Cubans have a limited choice when it comes to shoes and clothing.
What to TAKE For Cubans
What to take to Cuba for Cubans? This has changed somewhat recently because thousands of Cuban doctors were sent abroad and were permitted to return home with previously banned imports. The favorites are knock-off designer t-shirts and jeans and running shoes.
So those Cubans who can find money can now throw off their old era duds for new clothing. 
These days you might want to check out the situation of Cubans to whom you wish to donate items. The hotel staff and anyone working in tourism such as guides are at the top of the food chain in Cuba. However your maid will distribute whatever you give among her family and friends.
There are many desperate people living in areas outside the tourist zones. But.....unless you know the city it is not worth the stress to trek over to a poor suburb to hand out items. Find a school or a church that will distribute them to children. If you've made some Cuban friends, ask them to give your donations to those who need them most, such as the elderly.
So what to take? Aspirin, Advil, bandages, Bic pens, flashlights with good batteries in them, hair brushes, travel alarm clocks, cotton underwear for women, antiseptic creams, soap, toothpaste and toothbrushes (always valued because of the high cost in Cuba), any kind of moisturizing cream or sunscreen. Best clothing to donate is cotton t-shirts or blouses, baseball hats and lightweight cotton pants. 
The women love any kind of lightweight carry-bag. Women in Cuba have to carry food or whatever they can find each day in the market and there are few carry-bags to be found.
Name brand running shoes and now Crocs are highly valued by locals, especially for their children. Do not bring sneakers like Keds because these have a poor reputation due to past cheap Soviet imports.
Words you'll see and hear NEXT >
More words Cubans use NEXT >
Return from Going to Cuba to Home Page