Havana accommodations
Havana accommodations cover everything from 5 star hotels at the high end to rented rooms and 2 star hotels at the low end.
Foreigners can book into the home of a local by going onto the airbnb pages for Havana.
International hotels
Many Cuban hotels are built in partnership with foreign countries such as Spain, France, Germany and Italy. These are the high-end hotels rated 4 or 5 stars where you will find elegance and contemporary style.
Cuban hotels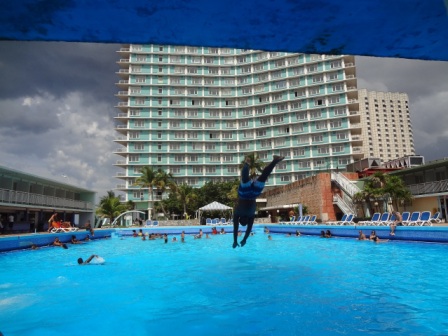 The Riviera Hotel was built in 1956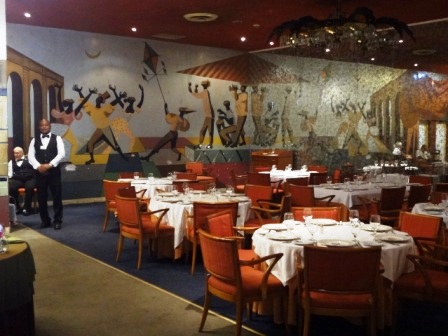 The restaurant is still as it was in 1959

The hotels run only by the Cuban government, and not in partnership, vary from excellent to poor quality. Some of them are on the beach, outside of Havana. These hotels serve both foreign and local clientele. Most of them earn only 2 or 3 stars unless they are in Varadero.
The accommodation can be tacky, the food lacklustre and the service half-hearted. But the price can be reasonable. There is usually a gift shop selling Cuban products and sometimes other amenities.
Before you book
Be careful when booking your Havana hotel. Some tour operators recommend a property or location that you may come to regret.
To avoid a holiday disaster, type the hotel name into the TripAdvisor site and read the experiences of many other travelers before making a commitment.
Casas particulares
Licensed Cubans are allowed to rent out rooms in their homes to foreigners. This is an excellent alternative to the hotel experience. These facilities are known as casas particulares and range widely in description. Some are glorious old mansions and others are 1950s style bungalows or even Soviet-style apartments. They can be found on-line at airbnb.
The advantage to this accommodation is that you get the chance to live up-close with a Cuban family. Prices per night in Havana range from $25 to about $50. 

The historic Hotel Nacional NEXT >

The former Havana Hilton NEXT >

Havana beach hotels NEXT >

Rooms for rent NEXT >

Return from Havana Accommodations to Home Page