Jinetero alert
Jinetero alert!!
This is a classic jinetero scenario.....
A young couple walks towards the Partagas Cigar Factory and Store for some good Cuban cigars. The jinetero approaches them and immediately shakes their hand, looking them in the eye and asking, "What country you from?"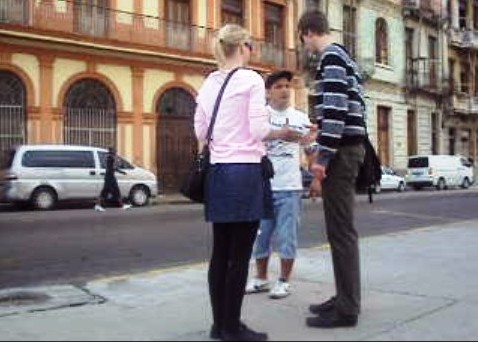 He then gives the spiel they can't resist...
that he can get the same cigars that sell in the Partagas shop at $800 for only $200 because his cousin works in the factory and steals them.
He explains that they will be in a box with all the correct labels so there'll be no problems at the border. He insists that a large variety of cigars can be looked at in his home, which he indicates is only two blocks away.
And he adds that he can also get them genuine Cuban food for a good price at a nearby paladar (a private restaurant in someone's home).
The facts are that the cigars will be fakes, of varying quality. And the paladar will charge around $70 per person for a meal that can be bought in a Havana restaurant for $30 each.
This couple is alert. They listen politely, then walk away to Partagas. They must have read about jineteros in their Cuba guide book.
But it will only be minutes before there is another fish to fry for the jinetero.

Return from Jinetero Alert to Home Page