San Rafael
Outside the Hotel Inglaterra, where San Rafael begins 
To the left of the Inglaterra Hotel is San Rafael... it has a busy pedestrian mall for the first few blocks.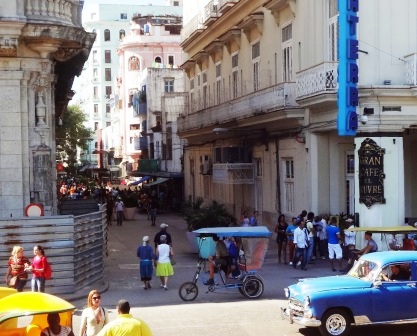 As you go along this street you will see many Peso shops and food vendors selling their wares for National Money.
You will also see Dollar stores such as Adidas and others selling cosmetics, home hardwares and alcohol.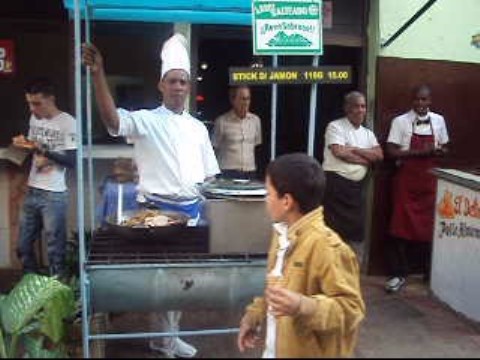 ---
There are plenty of peso food stalls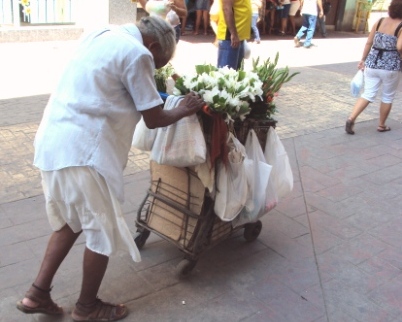 ---
An old woman sells flowers on the mall
When you reach the cross-section of Galiano, you will see the bright pink TrasVal store which was once the Woolworth's five-and-dime store (picture below was taken in the 50s).
---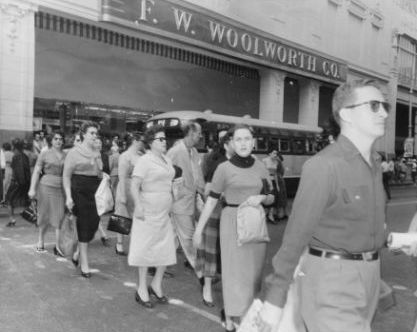 ---
Today the once-grand interior has been stripped bare and painted white, to display the overpriced household and hardware goods imported from China.
You will see crowds of Cubans browsing the aisles, but few are buying. They have come to view the items that just a few years back were impossible to find. However, the prices are prohibitive for most people. Check out the shoddy garden furniture and prepare for sticker shock.
There are guards inside this shop who will prevent you from taking photographs.
Beyond Galiano, there is not a lot to see further along San Rafael.