Casa de cambio
A Casa de cambio is a money exchange office.
It is also called a CADECA.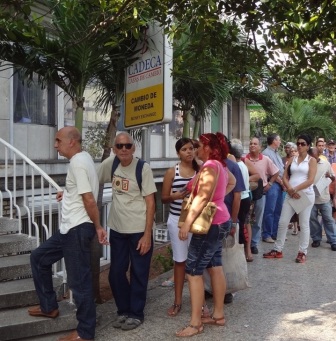 ---
Cadeca line at 23rd and J in Vedado

---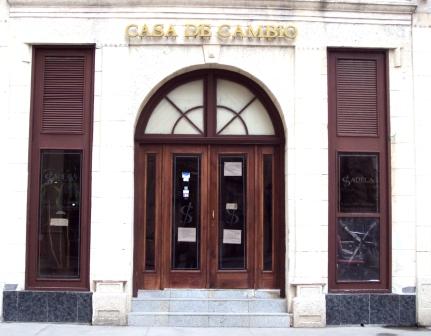 ---
Cadeca located in Old Havana

---
Cadeca locations
At the Corner of Oficios and Lamparilla, in Old Havana

On the Corner of Calle 19 and A in Vedado

Hours of operation:
Mon - Sat 10am to 4pm
Sunday closed
---
On Calle 23 near J in Vedado, this popular Cadeca will take care of most of the banking business for foreigners

At #257 Calle Obispo in Old Havana was the biggest and busiest Cadeca in the city with the best extended hours. However, it is now CLOSED for renovations.
The above Cadecas will change your foreign currency into CUCs. Make sure you take your passport with you as identification. They will carefully check each bill and reject anything that appears to be defective so take spotless and crisp cash.
When they give you the money and the receipt, it's a good idea to quickly count the cash in front of the teller rather than finding you've been shortchanged after you have left.
They can also change your CUCs into National Pesos. Just ask. You will receive around 25 National pesos for one CUC.
Never buy your currency from a person who approaches you on the street. You could end up with the wrong pesos.
---
Check the official daily rates here
---
Some major hotels in Havana will change your foreign currency into CUCs. Because they are not regulated by the Government you may not get as fair an exchange as you will at a bank or Cadeca. Plus some of the big hotels will not change money if you are not a guest of the hotel.

There are money-changing facilities in the following hotels:
Habana Libre at the corner of Calles L and 23 in Vedado (for guests only)

Hotel Nacional at the corner of Calles O and 21 in Vedado

Hotel Parque Central on Neptuno in Central Havana across from Parque Central (for guests only)

Hotel Sevilla at #55 Trocadero between Paseo de Marti and Agramonte, Central Havana