How to buy Cuban cigars
Where to buy
If you're wondering how to buy Cuban cigars...
it's best to get your quality cigars at
a top hotel
the duty-free shop
or one of the many Casas del Habano to be found in Havana
Casas del Habano
Partagas Factory
Industria Street, No. 520
Old Havana

Also at Quinta Avenida and 16th Street
Miramar, Playa

Cigar Museum
Mercaderes Street, No. 120
Old Havana

Palacio de Artesania
Cuba Street, No. 64
Old Havana

La Casa del Habana
Fifth Avenue at 188th Street
Playa

Hotel Nacional
0 Street and 19th
Vedado

Hotel PALCO
11th Street at 146th
Cubanacan, Playa

Hotel Melia Habana
3rd Avenue at 76th
Miramar, Playa

Hotel Melia Cohiba
El Corona Cigar Shop
1st Avenue at Paseo
Vedado

La Casa del Tabaco y Ron
Obispo Street between Monserrate and Bernaza
(above La Floridita Restaurant)
Old Havana

---
In Old Havana, you can walk to the Hotel Conde de Villanueva on Calle Mercaderes.
Here you will find a boutique hotel with a courtyard and stairs leading up to La Casa del Habanos. Reynaldo will offer you an exquisite hand-rolled cigar with your mojito.
Hostal Conde Villanueva
Mercaderes Street at Amargura
Old Havana

---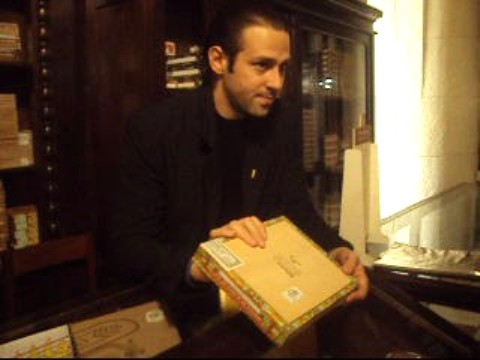 At Partagas, the customer is shown the seal on the cigar box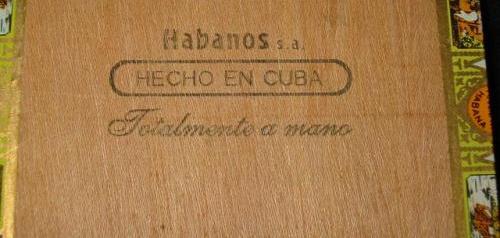 Look for this stamp signifying hand-made Cuban cigars


Beware of fakes
If you approach the doors of one of these legitimate operations, you'll soon have a new friend stepping out of the shadows:
"Hey Mister, my cousin works in the cigar factory. I can get for you very cheap."

Because there are strictly enforced laws which can include jail time, he will not carry the cigars but will invite you to stroll to a nearby home. If you want to see the heights that have been achieved by Cubans in the presentation of clandestine smokes, go along with him.
You'll see other tourists being hustled, sweating in the humidity, and trying to figure out if this is the real deal.
The boxes and seals look great. They were stolen from the factory. The cigars themselves are fakes, some impressive. (The bands were also stolen).
Cubans smoke cheap brands such as El Credito or Selectos, from Holguin. These are wrapped in white paper, 25 to the package.
They can become an acquired taste when you discover they sell for US$ 1.20 for the bundle. Ask for them in peso bars and kiosks.
Watch out! is NEXT >
Return from How to Buy Cuban Cigars to Home Page